About Piyush Sahay:
Engineering Program Manager by profession, writer by passion. Piyush has been part of several anthologies as co-author, compiler &editor. Piyush is fascinated by different cultures and ways of life and has a diverse set of interests, ranging from business strategy & project management to traveling, literature, history, and music. Piyush loves forts, mountains and peated whiskey.
LiFT: Tell us about the theme of the anthology and how did you get to know about it?
Piyush: Crimson is a limited edition anthology by The Write Order with poems and stories by 10 authors from all across India. These poems/stories are on diverse themes and topics. I got to know about it from the publisher since I've worked with them before.
LiFT: What inspired you to write for this particular anthology?
Piyush: What generally draws me towards anthologies is an open theme and choice of languages. Contemporary literature should reflect the diverse world we live in, there are no "rules" in writing!
LiFT: Where do you see yourself ten years down the line in the world of literature?
Piyush: Writing has always been a creative outlet for me & down the road I would love to devote more time to it. Apart from more publications, I hope to be able to create a platform for budding writers to pursue their literary aspirations from a young age.
LiFT: What do you do apart from writing?
Piyush: I work as an IT Program Manager (and quite enjoy it!). I'm very fond of traveling and love exploring new places, countries & cultures.
LiFT: Are you working on your own book? If yes, please tell us something about it.
Piyush: Indeed. While I usually dabble in poetry, the book I'm working on is meant to be a collection of 3 am thoughts & musings – unapologetic & unadulterated.
LiFT: What are your suggestions to the budding writers/poets so that they could improve their writing skills?
Piyush: Read more (and read widely) to write better. It is the best investment to hone your craft & provides exposure to new ideas, writing styles & vocabulary.
Click here to order Piyush Sahay's Latest Anthology – Crimson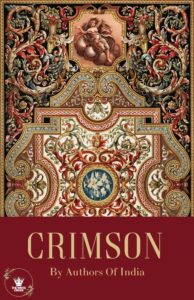 Total Page Visits: 215 - Today Page Visits: 1