About Nitin Shah:
Nitin Shah is the CEO at ICHARS (Institute of Clinical Hypnosis and Related Sciences) besides this a Director at ICHARS Support Foundation, Founder of the MHP Initiative and a member of the Rotary Club of Seacoast, Mumbai.
For more than 10 years he has been assisting psychologists and coaches become a successful advanced practitioner utilizing a unique approach that integrates concepts and techniques from Classical Psychology with Hypnotherapy, Neuro – Linguistic Programming, and more.
Nitin cares deeply about his clients. He cares a lot for his clients. A team of therapists who are both warm and compassionate, skilled and qualified, are able to understand each individual's needs.
Prior to ICHARS, he was a trainer at California Hypnosis Institute of India for 3 years and moved to the bustling city of Mumbai in 2001. He founded ICHARS Support Foundation and in Dec 2021 celebrated it's 3rd anniversary. The foundation focuses on (ICHARS Support Foundation) creating a holistic system that connects, supports, enables all the stakeholders in the mental health landscape (students, professionals, NGOs, Government bodies, general population) ICHARS has also pioneered in creating approaches -Cognitive Hypnotic Coaching and Cognitive Hypnotic Psychotherapy. Both are based on incorporating different schools of psychology and are latest in the field of mind sciences with the help of hypnosis.
Cognitive Hypnotic Coaching is mainly garnered towards life coaches for mental wellbeing. Psychotherapy is towards psychologists who work with intense negative emotions and traumas. The above stated approaches utilize the proprietary Soft Sea Framework which is the brainchild of ICHARS. For psychologists another innovative technique is the SVIT which focuses on helping clients accept and acknowledge their present problems whilst exploring their core issues.
Nitin is greatly interested in exploring the different approaches towards psychotherapy that attempt to achieve the same underlying objective using various routes with their integration.
In his free time, he enjoys working on website development, content creation and exploring automation tools. Besides his love for innovation in his field, Nitin has mentored psychology students from top colleges like Jai Hind, K.C in Mumbai as well as Manav Rachna University and Amity in Delhi.
Nitin indulges in Dal Batti, Gatte Ki Sabji which is primarily from the well-known Marwari cuisine and not to forget some homemade sweets prepared with desi ghee. He has also recently launched the #VisitMHP initiative to spread the awareness about the importance of visiting a mental health practitioner even before reaching the stage of disorders.
His passion for writing has led him to become an author of the book 'Destiny of Choice' which is a self-help guide based on events from his own true love story. On one hand, the book is a tale of romance and its tragic challenges and on the other hand, it is an incredibly powerful manual for living a happy life.
On weekends, you may catch him listening to some romantic Hindi songs or watching a classic Bollywood movie at a theatre.
LiFT: Tell us about your book, the journey of writing it and its content.
Nitin: Destiny of Choice is based on the events that took place in my life while I was pursuing my relationship. Given that my partner and I come from different religions and that her family was very orthodox, there were specific challenges that we faced that had to be addressed in ways that were quite unique.
While I was going through these events, I knew that the story that I was living had everything… romance, mystery, adventure, betrayal, heartbreak, euphoria, personal growth and transformation.
So, converting these events into a book was according to me the most obvious thing to do. That said, getting started was probably the most difficult part. There were always things that seemed more important or more urgent in the beginning. Even after I started, I took a really long time to complete this book.
That said the overall writing experience was really good. Also to be true I had help from a lot of people around. My friends and colleagues would go through the book, again and again, to help me with the edits, feedback and suggestions. As a result, the final product is engaging and crisp.
LiFT: Why you chose this title?
Nitin: Even before I began the book, I knew that this is what the title of the book would be.
I have always been fascinated by the play between destiny and choice. At every step of my journey, I realised that I was making some small and some big choices. Choices that influenced the course of my life and yet there were things that no matter how much I tried, I just couldn't control.
Given that the objective of the book was to help people make choices that can help them live happily, the title just seemed perfect for the same.
LiFT: When did you realize that you want to be a writer and what's your inspiration behind it?
Nitin: I realized I wanted to write this book when I began to notice how the choices I was making were shaping and influencing my life. It was then that I realised the most important thing about my story.
It could literally act as a handbook for setting and achieving goals while enjoying the journey that we embark on during our pursuit of these goals.
LiFT: Where do you see yourself ten years down the line in the world of literature?
Nitin: Since my primary passion is training coaches and psychologists, I don't think I have thought much about where I would be 10 years down the line in the world of literature.
There are two new books that I am working on. The next one is going to be again a self-help guide which would be based on various discussions I have had on specific topics related to life, happiness and managing our thoughts and emotions.
And then there is a book for mental health professionals which will be a manual of sorts for an eclectic approach to therapy.
LiFT: How much do you think marketing or quality of a book is necessary to promote a particular book and increase its readers?
Nitin: Obviously, the quality of a book is very very important but I am also beginning to realise the need and the importance of marketing the book. Both complement each other and are necessary for the long term success of the book,
LiFT: What is the message you want to spread among folks with your writings?
Nitin: That we can always make a choice to feel better in the now and create a better life in the future. The key for both is the ability to understand and work with our minds.
LiFT: What do you do apart from writing?
Nitin: Most days I am helping coaches and psychologists develop advanced practitioners skills. In my free time, you may catch me listening to some romantic Hindi songs or watching a Sci-Fi movie at a theatre or on an OTT platform.
LiFT: What are the activities you resort to when you face a writer's block?
Nitin: There are certain hypnotic processes to help me step into a creative zone. These processes are my go-to activities when experiencing writer's block.
LiFT: What if your story will be adopted as a movie? Whom would you want to work as a director or actors in it?
Nitin: Sooner or later I am certain that the book will be adopted as a movie. The best director for a movie of this type for me would be Rajkumar Hirani. Actors Ranbir Kapoor and Katrina Kaif/Parineeti Chopra
LiFT: Are you working on your next book? If yes, please tell us something about it.
Nitin: The next one is going to be again a self-help guide which would be based on various discussions I have had on specific topics related to life, happiness and managing our thoughts and emotions.
LiFT: What are your suggestions to the budding writers/poets so that they could improve their writing skills?
Nitin: The advice that I would give to aspiring authors is don't think about how good or bad your book will be before writing. This becomes the biggest block that stops us from starting. It is a good idea to first write the initial draft and then take feedback from people around you.
That way you are not guessing about the quality of your writing. Also if you are like me, who is more comfortable with talking, then it may be easier for you to first create a framework for your book in terms of the chapter names. And then talk about each chapter with someone with who you can have meaningful discussions.
Record the discussion and transcript it. The transcript can literally act as your initial draft for each chapter and then you can start working on bringing it all together and editing.
Click here to order Nitin Shah's Book – Destiny of Choice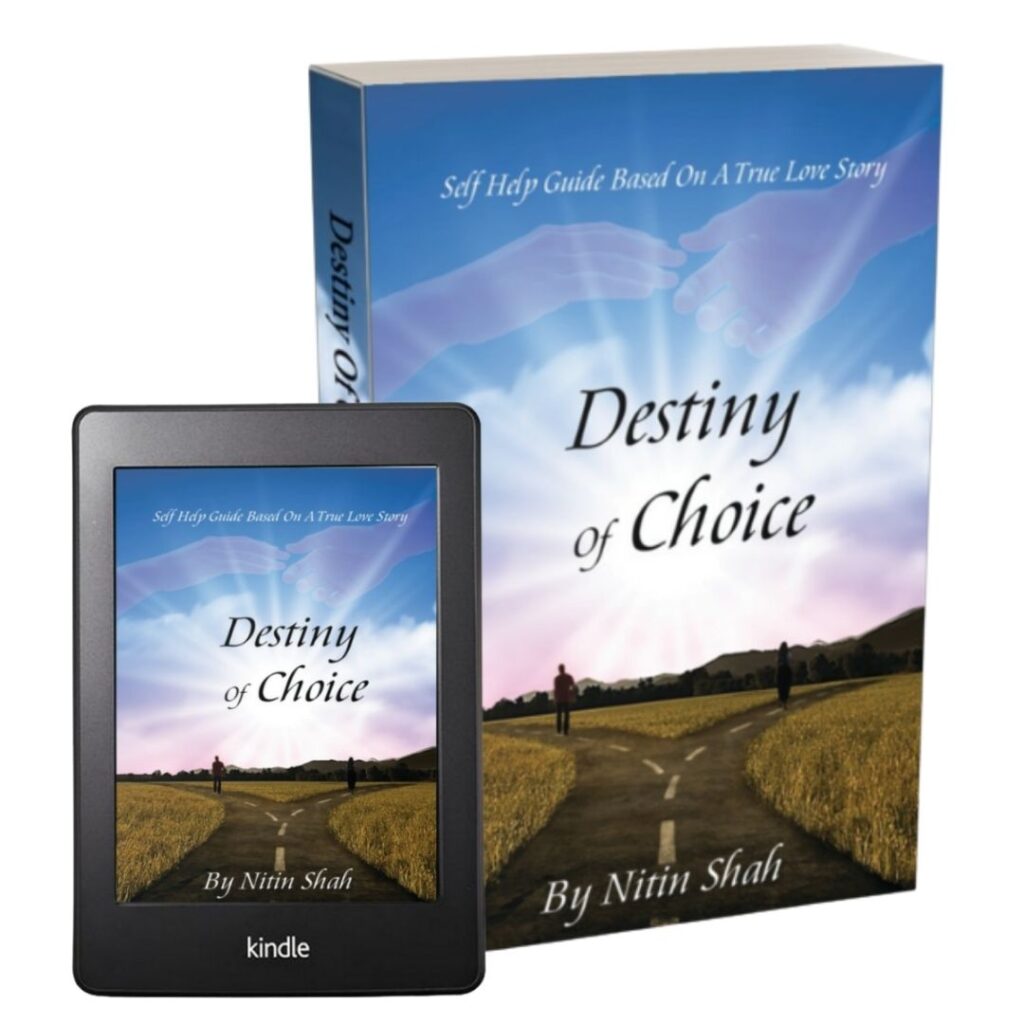 Total Page Visits: 459 - Today Page Visits: 1