About Meraj Hasan 'Meem':
Meraj Hasan 'meem' is a Marketing & Communications professional, a poet and a music journalist. His first book of poems, 'Khyaalon Ki Tapri' became an instant bestseller in India and stayed on charts for a month after its release.
Meraj is also passionate about music. He collects vinyls and writes regular columns and features in www.musicunplugged.in. He lives in Dubai.
LiFT: Tell us about your book, the journey of writing it and its content.
Meraj: One fine Sunday, about a decade ago, in the island country of Sri Lanka I wrote my first poem. Before that afternoon, I hadn't written a single verse. I continued to write every now and then and started posting them on social media. The poems got appreciation from several quarters and friends & family started requesting me to compile my work in the form of a book so that they can have them at one place, in their library. That's when the idea of 'Khyaalon Ki Tapri' was born. Little did I know that it would go on to become a bestseller.
'Tapri' is one of those little roadside stalls where India sips her tea, swaps stories and shares moments stolen from the bustling life. Just like the book's collection of poems, sighs and memories. Written in Hindustani-that other rich brew of Hindi, Urdu and even English-stirred with longing, served occasionally in rhyme, the poems are an eclectic mix, echoing everything from Mumbai to the monsoons to the mundane. They are also about you and me and the ordinary. If you like observing and absorbing the nuances of life, you might find these words speaking to you.
LiFT: Why you chose this title?
Meraj: These poems are stray and ordinary everyday thoughts about an evening or rains in a city or a conversation. And Tapri is where ordinary people like you and me converge and talk about everyday things over cups of tea. So, the book is like a kiosk of thoughts – Khyaalon Ki Tapri. That's how it shaped up in my head.
LiFT: When did you realize that you want to be a writer and what's your inspiration behind it?
Meraj: As mentioned earlier, I started writing poetry because they started coming to me. It's the people who became my readers on social media inspired me and almost coaxed me to collect those poems into a book. I never started off with the idea of turning into a writer / poet. It happened organically and I think that's beautiful.
LiFT: Where do you see yourself ten years down the line in the world of literature?
Meraj: Don't know about the world of literature but hopefully I will have some more books out…and in different genres – poetry (of course), plays, essays etc. Someday, I would also like to make a movie. I have a few ideas there.
LiFT: How much do you think marketing or quality of a book is necessary to promote a particular book and increase its readers?
Meraj: I think both marketing and quality of the content are important. There is a saying in advertising – Nothing Kills a Bad Product Faster than Good Advertising. So, if the marketing is good and the content (of the book) isn't, things won't work. But it works the other way around as well. If the content is good but people don't get to know about it…again things won't work.
LiFT: What is the message you want to spread among folks with your writings?
Meraj: Well, I don't think there is a message in there. I write about the ordinary and every day. Things that I observe and feel or the pain that I have gone through or someone else has gone through. In this kind of writing, I don't think there is any room for a message or that kind of thing. But the feedback that I receive from my readers is that the thoughts and ideas in the book are very relatable and somewhere the poems bring some kind of peace and calm to them…that's something very heartening and satisfying.
LiFT: What do you do apart from writing?
Meraj: I am a Marketing & Communications professional and a music journalist.
LiFT: What are the activities you resort to when you face a writer's block?
Meraj: I rely a lot on taking a break and doing something completely different and unrelated. Watch a movie, listen to music, play the guitar, play with my son, exercise. I also rely a lot on 'long walks'.
LiFT: Are you working on your next book? If yes, please tell us something about it.
Meraj: Yes. I am working on my next book of poems. Its going to be out this year. Its a bilingual collection of couplets in Hindi & English.
LiFT: What are your suggestions to the budding writers/poets so that they could improve their writing skills?
Meraj:
Read a lot and read good stuff. Pick up the list of Time / Guardian / NYT greatest books. Pick up the books by the great poets of all the languages. Pick up books by Nobel Prize winners. Do this daily.
Spend time interestingly with interesting people. Carpenters, Drivers, Musicians, Waiters, Businessmen, Actors, Travelers… you know what I am saying. And learn from each one of them. Observe them.
Write everyday for 30 minutes. Doesn't matter if its good or bad. Do this daily, as well.
Write what you feel. Write what you think. Write what you go through. Don't fake it. It will show.
Note down your ideas when they come to you in your phones/diaries. You may forget them later.
Live life to the fullest…enjoy this world….its got a lot to offer.
Click here to order Meraj Hasan's Book – Khyaalon Ki Tapri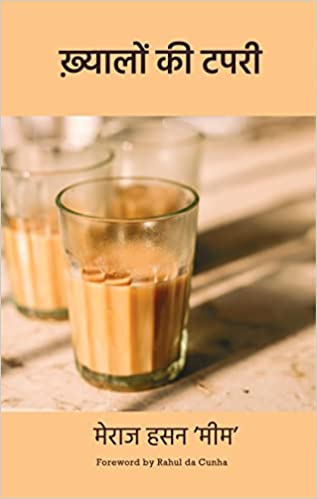 Total Page Visits: 560 - Today Page Visits: 1