About Manish:
Manish D. Singh is a 29-year-old consultant turned author. The Indian mythology and philosophies of the Bhagwad Gita had inspired him to pen down a 5 part series 'Kaalchakra Chronicles', a journey that began 6 years ago. Part 1 titled 'The Incarnated' is now available.
LiFT: Tell us about your book, the journey of writing it and its content.
Manish: Kaalchakra Chronicles, as the name suggests, is about time, the wheel that never stops and everything is bound by its rule. It is a series dedicated to the continuous cycle of life and death and explores the concept that destruction is actually the beginning of something new. It is a five part series, with the first part – The Incarnated which sets the base and acts majorly to set the tone of the series. It is the story of a criminal psychology student whose will to fulfill a certain promise starts a chain reaction that soon turns New Delhi into a firepit of vengeance and madness. The Incarnated also introduces the important characters and sets the story in motion.
Kaalchakra Chronicles also has a unique fantasy world with its own mystic ancient language – Pavina, that has its own grammar and pronunciation rules. That alone took me 1 year to create. As more parts of this series come out, readers will see a whole new aspect to Indian fantasy storytelling.
LiFT: Why you chose this title?
Manish: It was always the first choice once I finished plotting the storyline for the series. The timeline of Kaalchakra Chronicles begins 1000 years after the events of the Mahabharata and ends many years ahead in future. It seemed befitting to give this series a title that fits its core ideology.
LiFT: When did you realize that you want to be a writer/poet and what's your inspiration behind it?
Manish: I always loved telling stories since my childhood. I used to write short stories since 8th grade but while taking a trip to Amarnath in 2012, when Kaalchakra Chronicles' idea first materialised and I knew I had to tell this story then no matter how long it takes. Took me 3 more years to actually sit on it, then began a very long and exciting journey of writing the book series.
LiFT: Where do you see yourself ten years down the line in the world of literature?
Manish: I have not set any target yet, though I would like to see myself coming out with the last part of another series I am planning post Kaalchakra Chronicles. My main goal is to tell as many stories as possible, keeping the imagination running among the readers, for as long as I can.
LiFT: How much do you think marketing or quality of a book is necessary to promote a particular book and increase its readers?
Manish: Very important I would say. Marketing is the first way for us writers to reach out to our readers. If not done in a planned and good way, our book can get lost in the plethora or books out there.
The quality of the book ensures that the reader picks the book and checks out with it. The content is very important, but it's only after marketing and book quality that it gets noticed. So a writer cannot compromise anywhere!
LiFT: What is the message you want to spread among folks with your writings?
Manish: There is no agenda or teaching. I write because I feel about writing something. It's the quality of the reader to make the sense of the story. I believe in talking about emotions and relations irrespective of sticking to a genre. So when I write a story I just wish the world to appreciate their relationships, no matter what nature they are.
LiFT: What do you do apart from writing?
Manish: I am a research analyst by profession. When not working or writing, I prefer going out for long drives or sitting in a crowded place observing people, looking for any special trait I could find. This is the best way to develop new characters and make them more realistic. I attempt to find my characters roaming freely in real world.
LiFT: What are the activities you resort to when you face a writer's block?
Manish: I hit the gym! And I listen to Imagine Dragons, Lucky Ali and Jazz music. It kick starts my brain. But when nothing works I give writing some rest and do something else. The trick is that never force yourself to write of you don't want to. Creativity will come to you eventually, so just sit back and relax!
LiFT: What if your story will be adopted as a movie? Whom would you want to work as a director or actors in it?
Manish: Actually I would prefer a web series! But honestly I am not thinking about it at the moment. I am more focused on writing my books. But in case if it ever comes to fruition, then Pankaj Tripathi, Anil Kapoor, Anushka Shetty are some actors I m interested in to play pivotal roles.
LiFT: Are you working on your next book? If yes, please tell us something about it.
Manish: Currently I am about to wrap up part 2 of Kaalchakra Chronicles. Planning to release it by April. I also have another book titled You Can Call It Love, which is again the story of a Banarasi boy Kaashi who considers himself nothing short of SRK, but learns the true value of relations and life the hard way.
I am planning to release it by February.
LiFT: What are your suggestions to the budding writers/poets so that they could improve their writing skills?
Manish: No matter what happens, be true to your idea. Don't bend or compromise on it for money or publishing house. Because it may take chance, but once you are true to your idea, you will always end up finding your audience who will love what you have created!
Also what's important here is giving a background story to every single character of your story, even if you have decided to jot share it. This will not only help your storytelling but your characters would also feel more relatable.
Click here to order Manish's Book – Kaalchakra Chronicles – The Incarnated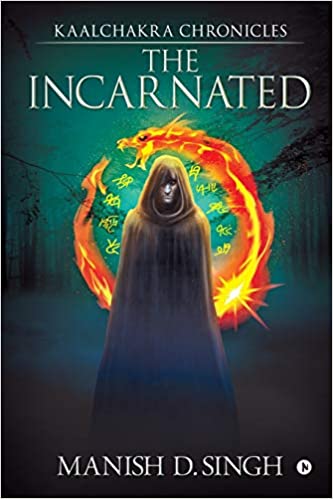 Total Page Visits: 621 - Today Page Visits: 1