About Keerthana Venkatesh:
Keerthana Venkatesh is a journalist-turned-marketer and a co-author of several anthologies, including A Melange of Outpourings, Labyrinth of Relationships and Story Through My Eyes. She was recognised for her literary works as a young poet by The International Society of Poets (Maryland, USA) and by the Poetry Society of India, with her poetry published in the audio and print formats of anthologies by both organisations.
Over the years, she has honed her passion for writing via her journalistic career as an editor, feature writer and columnist. She has also played a critical role in establishing content marketing strategies for major corporations. She is the chief mentor of the Spark Writers' Retreat, where she actively mentors wannabe authors.
A mother to two adorable and talented girls, she often pens her learnings as a parent and her outlook on life in her quirky style in her blog www.thisshortstory.wordpress.com
LiFT: Tell us about your book, the journey of writing it and its content.
Keerthana: Each of us is the hero of our own little cosmos. We look at the world with our own lens and react to it based on our personal perceptions. However, deep down, we all know that everyone's life is not as black and white as it seems to be. We all live those shades of grey that brings out our tenacious spirit and makes life more meaningful. Storm Beneath The Grey is a collection of five not-so-short stories that delves into these shades of grey and explores five pertinent socio-psychological issues that are often swept under the carpet and are spoken about in hushed conversations. It looks under the layers of of people's personalities to reveal what's hidden deep within which helps us see their universe in a whole new light. These people become heroes and anti-heroes, comics and villains; they become You and Me.
LiFT: Why you chose this title?
Keerthana: As I said earlier, we all live in the grey shades of life. We have all weathered storms of varying intensities, where every problem has helped shape our personality. It can range from failing in an exam to be caught in a lie, to finding a mentor in the most desperate hour and in the least expected person, or even feeling let down by the least expected situations or people. Yet, we continue to live life to its fullest. The title STORM BENEATH THE GREY therefore showcases the grey shades of life that are coloured in intensity based on the storms of life that we weather.
LiFT: When did you realize that you want to be a writer and what's your inspiration behind it?
Keerthana: Writing has been my passion that I leveraged to shape my profession. I used to write a lot of poetry way back in school and college, but with the experiences that have come my way, I've found a more creative power in writing articles, blogs and short stories as well as books. My poetry was recognised by The International Society of Poets and the Poetry Society of India in the early 2000s, and was also published in their anthologies.
As for inspiration, I think it's just a creative expression. Just like how some people enjoy painting as a form of creative expression, I find I can express my thoughts, ideas, feelings and emotions best via the written word.
LiFT: Where do you see yourself ten years down the line in the world of literature?
Keerthana: (Laughter) Given an opportunity, I would probably say like JK Rowling. But on a serious note, there has been so much knowledge that we accumulate every day of our lives. Transponding them into the written word through the various formats and media that I write in, and with a hope that it benefits a large number of people in a positive way is what I hope for, not just 10 years from now, but every given time I write something to share.
LiFT: How much do you think marketing or quality of a book is necessary to promote a particular book and increase its readers?
Keerthana: It is extremely important, especially in today's day and age when there is such a rush of books, so many media of publication and fewer readers than even two decades ago. Hence, book marketers need to be absolutely aware of the subject of the book, its target audience and the best medium to reach these audience and convert them to readers.
LiFT: What is the message you want to spread among folks with your writings?
Keerthana: Overarchingly, a majority of my writing is focussed on people stories. I enjoy celebrating the spirit of life because when one is living life to the fullest, you very well know that they have a wealth of experience and several storms that they have weathered successfully to understand the meaning of life better and enjoy every breath, every beat of the heart.
LiFT: What do you do apart from writing?
Keerthana: I am a journalist turned marketer. I manage the marketing operations for an Australian company right now, and I also freelance as a journalist for a few magazines and video shows. I also compere events and moderate panel discussions.
LiFT: What are the activities you resort to when you face a writer's block?
Keerthana: Actually, the writer's block has helped me pen several newer pieces. For one, when I am stuck with the narrative flow, I take a step back and analyse the situation from multiple angles. I pen down various scenarios and then imagine the story forward and how it can strengthen the main message or plot. Another exercise that I put to practice is free writing which clears the mind. When the block is too strong, I just leave the whole writing behind, take a break, and indulge in other aspects of life. At times, the block clears in a few minutes to a few hours; sometimes, it takes days. And I let it be, because when the ideas come back, they come flooding with more powerful ideas to write about.
LiFT: What if your story will be adopted as a movie? Whom would you want to work as a director or actors in it?
Keerthana: I have been proposed with an OTT series, so I would prefer to keep the names under wraps until we have a final decision about the whos, whats, wheres, whens and hows.
LiFT: Are you working on your next book? If yes, please tell us something about it.
Keerthana: Yes, the next book is likely to be released by the end of 2022 or early 2023. It explores another socio-psychological topic surrounding education, and will be a full-length novel.
LiFT: What are your suggestions to the budding writers/poets so that they could improve their writing skills?
Keerthana: Like every skill, writing improves only with regular, diligent and disciplined reading and writing. While you may have a preferred genre and style of writing, read across genres and writing styles to get a broader perspective and improvise your inherent skills and talent. Explore different ways of expressing the same sentiment. Have checklist of what you want to infuse into your work from a language, emotional and scene setting perspective. Most importantly, understand your audience and then write in the way that they would understand if you spoke the same idea to them.
Click here to order Keerthana's Book – Storm Beneath The Grey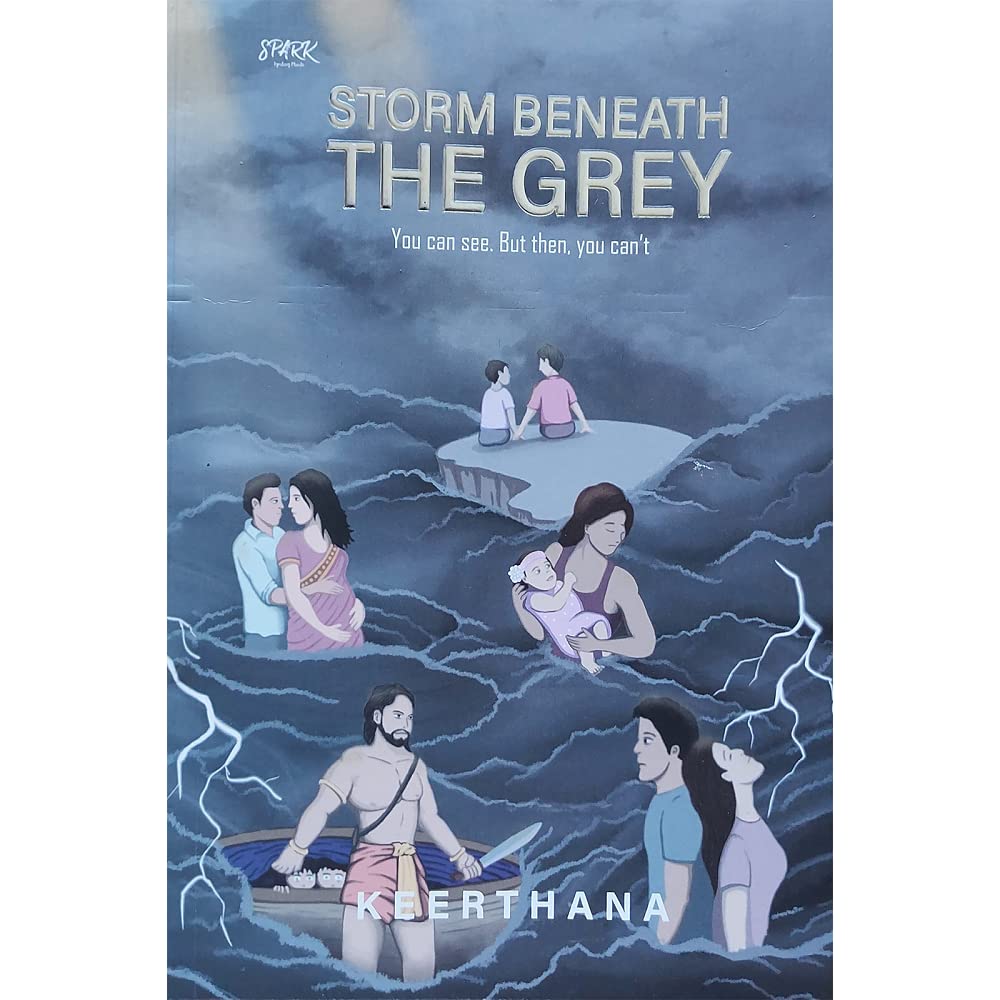 Total Page Visits: 459 - Today Page Visits: 1