About Jagjit Rana:
Jagjit Rana is a professional automobile designer having dual Masters degrees in Design (IIT Delhi) and Management (SIMS Pune) with a background in mechanical engineering. Married for 18 years, he has two sons. Being interested in reading has always cherished the dream to write, and what better topic to write about than to jot down the experiences of life. A Father's Outlook is just that where talks about experiences and ways of thinking. The phenomenal journey of parenthood is a roller coaster, and the same has been depicted in there.
LiFT: Tell us about your book, the journey of writing it and its content.
Jagjit: "Good things are often birthed from adversity." This quote possibly couldn't have been proved truer during this pandemic era. Most of us have gone through an internal churning and coped with our own ways and means. New hobbies were discovered. Innovative ways of keeping self and family occupied were implemented.
I discovered my passion of writing during this epidemic. I have been an avid reader for almost two decades and have a small collectible personal library. As a reader I have always dreamt of writing a book myself. As mentioned, the lockdown precisely gave that opportunity. And what better subject than to write of your experiences.
LiFT: Why you chose this title?
Jagjit: Parenthood is being discussed widely and vividly in current times. When two individuals decide to take a leap into parenthood, it must be a logical and calculated graduation. Present day parenthood is not meant to be accidental but a planned enunciation. Scenarios in Indian metros do make the things complicated. Other than being a financial burden, it can be emotionally taxing to be a parent…for sure if you are not prepared for it. There must be enough planning and discussions. Bringing up a child is no more only a mother's job. This farce has been long defeated and most of us have started acknowledging it. Father's involvement in the upbringing of the kids is a must; for the well-being of the individual and society. It must be an equally divided responsibility, with both the partners sure about the roles they are going to play. It's more of complementing each other. In the cases where both the parents are working, fathers have to step up the ante. For this he must be ready to go an extra mile and make an extra effort to maintain the sanity in the household. This would only be acknowledged when he starts respecting and acknowledging the role of a mother. Both may have respective careers and may be doing well in their professions, but for sure he must remember that she has taken a toll on her physicality while going through the period of gestation. Although it's unfair to compare the physical strengths of the genders, but for consideration sake, he needs to put an extra effort when it comes to physical support of bringing up kids. This becomes more testing in the case of second kid, as it can be more taxing due to the age paradigm. There is a trend of at least having a five-year gap between the kids and looking at the prevailing stats, for sure the second kid arrives when the parents are well past their mid-thirties. Physically it becomes taxing for one parent to go through the whole cacophony.
Considering the above scenario, for sure it's not a guide book on how to be effective parent or father; for clarification sake, but an opinion of what can work out.
LiFT: When did you realize that you want to be a writer/poet and what's your inspiration behind it?
Jagjit: I have been an avid reader for almost two decades and have a small collectible personal library. As a reader I have always dreamt of writing a book myself. The sole purpose of this book is to make a connect with other parents and make them think and compare their own household and see if they also share the same viewpoint or can take these views as reference and mold them as it suits their thinking.
LiFT: Where do you see yourself ten years down the line in the world of literature?
Jagjit: Possibly writing more books. I have already started on second book. Would surely like to contribute positively to the literature community. I am working on a book title which can actually become a series. In next ten years would like to surely see at least 3 books with my name tag.
LiFT: How much do you think marketing or quality of a book is necessary to promote a particular book and increase its readers?
Jagjit: I think marketing and quality of the book is of prime importance for the reach and acceptability of any work. Todays world is more of e marketing and social media driven. The right combination of marketing and quality of execution of work would really enhance the success, reach and acceptability.
LiFT: What is the message you want to spread among folks with your writings?
Jagjit: Keep dreaming and keep aspiring. A good idea takes time to come. Try to be true to the subject. The closer the subject to your heart the better would be its execution and portrait. Also connect with your audience. Be clear about your target segment and think form their perspectives.
LiFT: What do you do apart from writing?
Jagjit: I am a professional car designer working with India's leading automotive brand. Art has been my hobby since long. I also run a insta handle with a weekly cartoon strip " MY GENE POOL". IN my relax time I don indulge in sketching and also books. Being an avid reader, have a collection of almost 400 books.
LiFT: What are the activities you resort to when you face a writer's block?
Jagjit: Take a break for few days. Think of something else other than the subject matter. Explore the nature. Try to declutter you mind. Be at peace. Talk to people and friends just to get that spark back. Your influence may be just waiting to be tinkled again. Most important, be patient.
LiFT: Are you working on your next book? If yes, please tell us something about it.
Jagjit: I am working on a fiction book which deals with the everyday life of different couples in a community living of a metro. They are a part of a group and how their relationships fair along with the complications and stories. Overall a " wholesome" concept divided in incidents that will bring a smirk on the readers face.
Click here to order Jagjit's Book – A Father's Outlook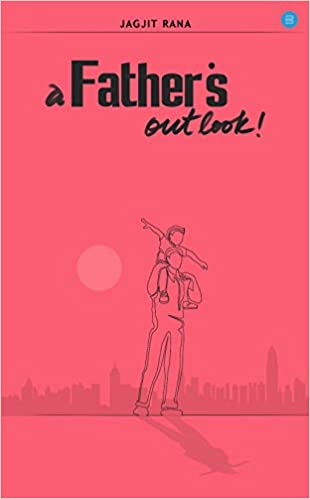 Total Page Visits: 418 - Today Page Visits: 1