About Hanish Rahane:
Born in India but raised predominantly on English literature, Hanish Rahane is a contemporary story teller who finds his writing influence in genres such as Crime fiction, magical realism, philosophy and psychology. In his first book, Detective Raghav and the Circus of Doom, he weaves all these diverse themes into a compelling storyline; one that is both unique and layered.
LiFT: Tell us about your book, the journey of writing it and its content.
Hanish: The protagonist and the antagonist of the novel both believe that their recurring dreams somehow show them their future; that their dreams are premonitions of some sort. The protagonist is a detective while the antagonist is fourteen year old boy who is the youngest performer among the troupe of a travelling circus. The novel at its heart is a murder mystery, and here it draws it's inspiration from crime fiction. But it has various other elements such Psychology and Magical Realism that eventually form an important part of the narrative.
Apart from these two main characters, there is also a third important character in the novel named Black Genie who is a spirit or a demon of sorts. He adds the much needed magical or mystical dimention to the story.
LiFT: Why you chose this title?
Hanish: Firstly, it is a working title. The title says exactly what the novel is all about and subconsciously also explains what the reader is in for when he/ she picks it up. It is a murder mystery, at its heart. Secondly, I feel like the title has a very nostalgic sort of feel to it. Like Indiana Jones and the Temple of Doom or Scooby doo and the snow monster, etc.
Lastly, this title gives me an opportunity to write a sequal or a prequel. I would love to write another Detective Raghav novel with the same main characters.
LiFT: When did you realize that you want to be a writer and what's your inspiration behind it?
Hanish: I have always loved writing ever since I was a kid. I used to write in school and college. In the past six years, I wrote a dozen short stories and two novellas.
I started this novel also as a short story. But soon I realised that there was a lot more that was there to be written. I did not intend to make this into a novel from the get go. But somehow, it just turned into one. It was destined to be one.
LiFT: Where do you see yourself ten years down the line in the world of literature?
Hanish: I would love to keep writing and churning out one novel after another for years and years to come… but that is just wishful thinking. Everybody wants to do that. The reality is that I also have another job as a marine engineer which which will take up most of my time. But I will keep writing as and when I find the time.
LiFT: How much do you think marketing or quality of a book is necessary to promote a particular book and increase its readers?
Hanish: Marketing is important. But marketing a single book is not as important as marketing an author. Once people like an author, there is a higher chance that they will read his next book. And yes, quality of writing is the most important thing when it comes to being liked.
People merely stumble upon good books. They don't intentionally seek out and discover them.
A book just needs to be seen. But an author needs to be discovered.
LiFT: What is the message you want to spread among folks with your writings?
Hanish: There is no social message in my first novel. It is meant purely for the purpose of entertainment. But I would like to add a word of advice for fellow writers who are in the process of writing their first novel. Guys, I cannot stress more upon the importance at editing. I did not have a professional editor and I edited my own work. This is the biggest mistake that I have made with my novel.
LiFT: What do you do apart from writing?
Hanish: I am a Mechanical Engineer by profession. I work in the merchant Navy. I am going to be sailing for the next 6-8 months and will only be back in the later half of 2022. I also love cooking and playing the guitar and keyboards.
LiFT: What are the activities you resort to when you face a writer's block?
Hanish: To be honest, I have never taken a lot of effort to get myself out of a writer's block. I channelize my creative energies into other things like playing the guitar or cooking, or waste my time watching Netflix. But in the future, I plan on making more and conscious efforts on getting myself out when I am facing a writer's block. It is just not a big deal. It happens to everybody. You can never seem to come up with a single word to write until there is something to write about.
LiFT: What if your story will be adopted as a movie? Whom would you want to work as a director or actors in it?
Hanish: I would love if the novel gets adopted into a movie. I would definitely love to work as a director although I think I am more suitable to be a screenwriter. I don't think I would do very well as an actor.
LiFT: Are you working on your next book? If yes, please tell us something about it.
Hanish: Not at the moment but I would love to come up with another Detective Raghav and continue with this franchise.
LiFT: What are your suggestions to the budding writers/poets so that they could improve their writing skills?
Hanish: EDIT EDIT EDIT. And after you are done with all the editing, hire a professional editor to do it once again. Atleast let a family member do one round of proofreading for you. There were many small mistakes in my novel post publishing. I was in a hurry to finish it. I wanted to get it out before I sailed. Thankfully, my publishers agreed to relaunch the novel with all the corrections.
Writing a book is a painfully long process. And editing is the most important part of it.
Click here to order Hanish Rahane's Book – Detective Raghav and The Circus of Doom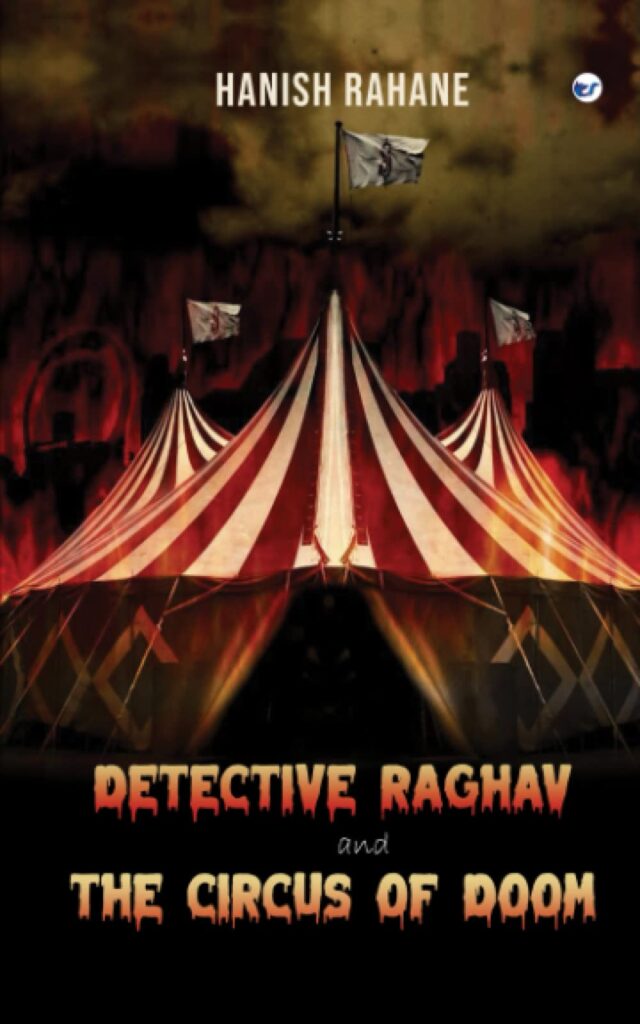 Total Page Visits: 323 - Today Page Visits: 1