About Gayatri:
A nomadic soul, a seeker, a counselling psychologist by profession, Gayatri hails from the city of pearls, Hyderabad.
She takes the pleasure of writing as it helps to disperse feelings and emotions in panache.  She finds writing as a medium to decifer realms of the unknown in the best possible way.
LiFT: Tell us about your book, the journey of writing it and its content.
Gayatri: Through all these years, we read Ramayan singing hymns, the glories of ShriRam, while Sita is lest explored. There hasn't been a geninue source depicting sita and her repertoire, her valor or her emotions.
The idea of writing this book was to bring sita on forefront, to bring upon her valor, her emotions through to this generation and for years to come.
My book Tales of Ramayan is written in perception, in Sita's narrative. With a blend of poetic & illustrative touch.
LiFT: Why you chose this title?
Gayatri: We have read ramayan in perception of ram. What if Sita herself narrates ramayan?
My desire to write Ramayan with Sita as protagonist grew when this thought hit my head – what if Sita herself ever narrates Ramayan, how would she have ever emoted her feelings, her pain, her views on her as a being.
Tales of Ramayan: Sita's perspective as the title says is written in perception, in Sita's narrative. With a blend of poetic & illustrative touch.
LiFT: When did you realize that you want to be a writer/poet and what's your inspiration behind it?
Gayatri: I geniuenly have had never thought I would write or be known as writer. While a random poetic musing at age of 12 was my first step into world of writing, my journey as a writer became a self realisation in 2016 while I was diving down through a low phase and writing helped me cope through the phase.
While most of my inspiration into writing is drawn from my own experiences, nature and people around helm most of inspiration source as well.
LiFT: Where do you see yourself ten years down the line in the world of literature?
Gayatri: Ten years down the line, I see myself outgrowing as a writer, decoding my life as an author to you all avid readers and future writers on stage.
I do see myself as a successful and well known persona' in literature world as I explore the depths of it.
LiFT: How much do you think marketing or quality of a book is necessary to promote a particular book and increase its readers?
Gayatri: I feel marketing affects the book irrespective of quality, genre or title chosen. Better the quality, better the global reach. And with advent of social media surge the urge of marketing your products and in approachable way has become way more necessary than 10-15 years ago where in books were availed mostly in stores.
LiFT: What is the message you want to spread among folks with your writings?
Gayatri: So far as a writer, I have dwelled around the richness our Indian mythology holds and all i would love to see our future generations stay connected to our roots, acquire adept knowledge in simplest possible ways, in various perceptions, besides learning to live the life of your dreams.
Writing is a beautiful medium. Use the best to inspire, imply and impart knowledge and teaching.
LiFT: What do you do apart from writing?
Gayatri: Apart from writing, I love arts. I am self taught artist.
1. I love to paint in my leisure time. It is one form of meditation to me. Off late I have begun digital arts and animation which I am thoroughly enjoying.
2. I enjoy playing guitar as and when time permits. I find solace in music most of times. I try to compose (which hasn't happened so far 😅), hopefully in near future I would do.
LiFT: What are the activities you resort to when you face a writer's block?
Gayatri: While most of times I isolate to a serene space or take a walk, I resort to music, arts and some other creative front. I meditate with serene music which helps a lot reading helps a lot too to move through writers block, so I rely on reading various books, novels or even news papers.
LiFT: What if your story will be adopted as a movie? Whom would you want to work as a director or actors in it?
Gayatri: I do have plans to write novels in future and with a few in pipeline if ever i would want someone to be casted in it, I would love Dipika Padukone / Nusshhrat Barucha and Rajkumar Rao to be in leads with Vidhu Vinod Chopra and Rajkumar Hirani directing it.
LiFT: Are you working on your next book? If yes, please tell us something about it.
Gayatri: My immediate next is titled lockdown diaries which is all about each of ours experiences, highs and lows in lockdown times, the lessons and values we got to learn from it.
Majorly its experiences from people I have known, from observations blended with my own experiences.
Other two in line are untitled novel which I am yet to pursue.
LiFT: What are your suggestions to the budding writers/poets so that they could improve their writing skills?
Gayatri: Keep writing no matter what.
There would be many lows than highs you would foresee, there shall be times you lack motive. You will have rejections from your own thoughts than external sources.
There would be times you feel you did call it quit, but there was always a way out things works towards the end.
If you dream of writing, hit it!
Click here to order Gayatri Rao's Book – Tales of Ramayan: Sita's perspective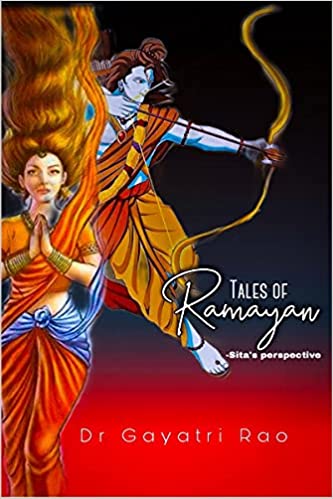 Total Page Visits: 547 - Today Page Visits: 2