About Eliyas Johnjoseph:
Eliyas Johnjoseph is an Author & Innovator, lives in Tamil Nadu and well known for his imaginary stories, and his recently published book "Eagles soar" Which describes passion and dreams, and prior book "Always" Which describes the endless love story of mother and son relationship, which was published in 2021 by Caroling pen publishing also co-author for three books.
LiFT: Tell us about your book, the journey of writing it and its content.
Eliyas: About Eagles soar Book –
A boy who had no idea what his life would bring to him. He was hardly a part of his so-called life. Occasionally, he never thought passion would turn out to be a dream for him. Did victory count after every failure if yes, then Regan is lucky enough to explore his life.
Regan is a small-town boy, whose father is a cab driver and his mother is a housewife. He never knew hope and a battle of chasing kites would turn out to be a parallel cosmos for him.
Sometimes, we meet several people in our lives and similarly, they turn out to be the most important person, also when they leave they teach us something crucial that either we have to accept it or manipulate it in the missions of our life.
It was tough for Regan to choose his life between alternatives, which seems impossible. It convinces that there's something between dream and passion.
My journey with Books –
After my debut book "Always", i was thinking to write motivational story to inspire all kids and youngsters with this short story, which they can catch up easily and make them understand about power of dreams and importance of passion with positive thoughts which includes desire, dedication and achievement of life. All wrapped up in one subject, title called Eagles soar.
LiFT: Why you chose this title?
Eliyas: Story has inspiring character Regan who wants to be a great flyer which he eventually achieves by chasing with his childhood hobby, same i would to see every kids and youngsters with passion and dreams to achieve great level in their life so i kept as Eagles soar, hope all eagles will be soaring soon with their passion towards success.
LiFT: When did you realize that you want to be a writer and what's your inspiration behind it?
Eliyas: I believe that every word has power to wakeup every souls to run towards positivity and success. Also, I felt that i can motivate and help many hearts towards success through my writing.
LiFT: Where do you see yourself ten years down the line in the world of literature?
Eliyas: I would like to see myself in the world of literature in every readers heart. Lets all rise up by adopting good skills and achieve more.
LiFT: How much do you think marketing or quality of a book is necessary to promote a particular book and increase its readers?
Eliyas: Ya I feel that before marketing, every writer should have quality in book with moral enriched to increase its readers.
LiFT: What is the message you want to spread among folks with your writings?
Eliyas: "Passion doesn't look gender if you are better at work then just make your passion".
LiFT: What do you do apart from writing?
Eliyas: I work in corporate environment, also being passionate with my innovating skills apart from my writing work.
LiFT: Are you working on your next book? If yes, please tell us something about it.
Eliyas: Yes, am working on my next books which deals with women struggle and comes with strong message for improving their skills set and empowering them.
LiFT: What are your suggestions to the budding writers/poets so that they could improve their writing skills?
Eliyas: My suggestions to all budding writers, bring your creativity in your writing skills, Don't get fear on writings, lets educate and help many hearts through our literature work.
Click here to order Eliyas Johnjoseph's Book – Eagles Soar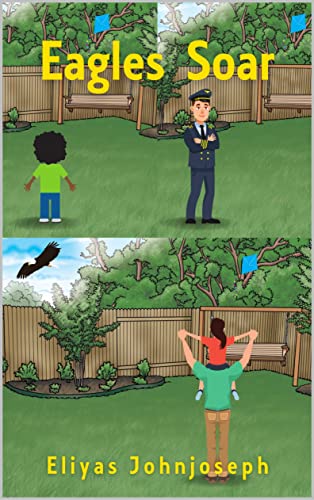 Total Page Visits: 293 - Today Page Visits: 1