About Dr. Smita Dipankar:
Smita is a fun-loving person with an aura of an angel. She believes in making everyone feel special. Anybody who comes in contact with her immediately gets comfortable with her. She has a knack for being a teenager's best friend. She is a package of happiness along with hard work and dedication when needed. If you ever need anyone to talk to or share your problems with, then she is the one who'll always be there! Dr. Smita's belief in teenagers and her love for them makes her the best teen life coach. Dr. Smita is a consultant anaesthesiologist with an experience of more than 19 years working in the profession. Along with anaesthesiology, she is a very passionate health and wellness consultant and works with families guiding them to achieve optimal health. She found her passion as a life coach for teenagers and is India's first Teenwisdom.inc certified life coach for teen girls. Her passion and vision to make a difference in every teenager's life are reflected in her work. She also provides exclusive coaching programs and workshops that contribute to this passion. You can find more about her and her programs at www.drsmitadipankar.com. She is on a mission to simplify teenage for every teenager and their families.
LiFT: Tell us about your book, the journey of writing it and its content.
Dr. Smita: My Journey of writing:
Writing this book is a dream come true for me. I started writing this book with an intention to make it a small handbook of 150-200 pages but it ended up to be 400 pages. I realised that I had gained a lot of experience about teenagers, parents of teenagers and teenage as a whole. I have done my best to put it in simple words for every person to understand, the concept and crux of my book. This boosted my self-believe a lot and I feel extremely proud of myself. I myself learnt a lot about being a better parent to my teenager.
About the book:
Teenage is one of the most difficult phases for the teenagers and their parents. During this journey of growing from a child to an adult, both parents and teenagers go through a lot of frustrations, challenges and confusion on how to handle them. This book is a guide, an aid, a rescue for every parent and teenager. It focusses on every process related to teenage, answers questions on why the developmental process in a teenager is different and how it affects their behaviour and habits.
This book is for:
1. Every boy and girl, age between 13 and 22 years;
2. Every parent and grandparents with teenagers at home;
3. Every teacher and coach who works with teenagers;
4. Every parent of tweens (pre-teens) between the ages of 9-12 years;
5. Every parent with children of any age group;
6. Every person who has enjoyed and cherished their teenage years wishes the same for every teenager.
It's different from other teenage or parenting books because:
Normally, the self help books are written for and focus on either teenager or parents separately. Since I am a mother of a teenager and also being certified teen life coach with an experience of guiding many teenagers & their families, I have written the book in the voices of teenagers & their parents or family. My idea behind writing this book was to make both parents and teenagers understand each others perspective, the thought processes that each one of them go through while handling various day-to-day situations and big challenges and the challenges that each of them face when the other person doesn't understand them. So, I always recommend that the parents, grandparents and teenagers buy their own separate copy of my book, read it every time they face a simple or complicated situations and understand each others perspective from the book before judging and reacting spontaneously. This is the most unique point of my book and hence its totally different from other books.
The content of the book:
In this book –
– Understand the top challenges faced by teenagers and their families which are described in detail here,
– Know the advantages and disadvantages of each problem.
– Get ready for a paradigm shift, to understand the root cause of all the problems in teenage and how a simple change in perspective can instantly transform the teenager's and their family's life, from dull, stressed to happy and exciting.
– Learn simple techniques, practical tips and solutions for day-to-day situations for Self-identity, academic stress, low self-esteem, relationship issues with parents, decision making about future etc…
– Read and learn from teenagers and parents' stories who successfully applied them and achieved amazing results.
– Realise and accept that some problems cannot be handled by parents and teens themselves. They may end up into conflicts and if not identified and prevented, may later lead to mental health diseases in teenagers. This requires an experienced person called life coach who can support and guide in handling and even preventing them, before they reach extreme situations.
– Know what is life coaching and its benefits to teens and parents, who is a teen life coach and why a life coach is important especially for teenagers.
– Explore the life coaching programs and know how such personalised programs have changed lives of many parents and teenagers.
With the knowledge acquired, learn secret family rituals to create the strongest parent-teen bond forever. It's all about simplifying teenage and celebrating the magical journey through teenage.
LiFT: Why you chose this title?
Dr. Smita: "Simplifying Teenage", is the tag line of my organisation Forevermagicalteens™ . That's what I believe in and it's my mission to simplify teenage for every teenager and their families. Hence I chose the title "Simplifying Teenage"
LiFT: When did you realize that you want to be a writer/poet and what's your inspiration behind it?
Dr. Smita: Books have always been my best friends since childhood. So, writing a book was always one dream I had. After working with teenagers and parents as a life coach, I realised that there is a lot of misunderstanding about teenage, teenagers and their behaviour in the society and also parents & teenager don't understand each other's perspective correctly leading to conflicts.
This inspired me to pen down all my experiences in a book, in a simple language so that every parent and teenager can keep referring to it every time they are stuck in day-to-day challenges & problems. Also, my daughter Anoushka, my husband Dr. Dipankar, and my book coach Rezina Denis, inspired & motivated me to write the book.
LiFT: Where do you see yourself ten years down the line in the world of literature?
Dr. Smita: In 10 years, I see myself as an author of many International Best seller books in the genre of personal transformation, relationships, Self development, mindset coaching, health and wellness for teenagers, young adults, parents, women, couples etc.. I see myself as a motivational author and an inspirational woman impacting millions of lives to live a happy and successful life. I see myself being honored with multiple national and international awards for my contribution in the world of literature.
LiFT: How much do you think marketing or quality of a book is necessary to promote a particular book and increase its readers?
Dr. Smita: Readers like the feel, look and content of a book. So, a good quality book is very important for readers when they hold the book in their hand.
Marketing is of utmost importance for promotion of books because that's how readers will be knowing about the content of the book, the author and what's in it for them to enhance their lives. A good marketing can increase the spread the message of the book and thus increase the number of readers.
LiFT: What is the message you want to spread among folks with your writings?
Dr. Smita: Being a parent to a teenager myself, I have gone through challenges, adopted solutions which has made my teenage journey with my child simple and exciting. I want these same techniques to be learnt by every single parent and teenager out there. As India's 1st TeenWisdom.inc certified life coach for teenagers, during my life coach training and while actually coaching teens, I realised that,
1. Teenagers today are misinterpreted and misunderstood by everyone around, no one tries to understand their perspective and what they are actually going through, while they are transitioning to adulthood.
2. The conflicts between parents & teens are just small arguments which can be instantly resolved and thus prevented at a very early stage from becoming a huge conflict in adulthood.
3. The parents' perspective, their state of mind, their thought processes of why they say things or scold teenagers is not understood or misinterpreted by teens and young adults.
Personally, having sailed in their boat and still sailing in it as a parent a teenager, now a young adult, I know that every parent and teenager go through challenges and problems almost every day. Hence I wrote this book to help parent and teenager to understand each other and equip them to identify, handle or prevent these challenges. Thus, empowering both parents, teenagers and their family's.
So, the message I want to spread among folks is that – "Teenage, though a roller coaster period for teens and their families, it's the most magical period too. Simplifying teenage is super easy. Cherish and celebrate every moment of this journey called teenage."
LiFT: What do you do apart from writing?
Dr. Smita: I am Life coach, so I do a lot of personal coaching sessions and workshops for parents, teenagers and women. As a wellness consultant, I equip families to live optimally healthy with day to day solutions.
Apart from writing, I love reading books of various genres, making new projects with crochet, watching Disney movies, sketching and travelling.
LiFT: What are the activities you resort to when you face a writer's block?
Dr. Smita: Whenever I have a writer's block, 1st thing I do is go off to sleep. I stop writing for few days and I discuss with my book coach. I meditate, or go for a walk in nature or spend time with my family or drink coffee and watch movies listen to songs. Al these activities help clear my mind and my writer's block.
LiFT: What if your story will be adopted as a movie? Whom would you want to work as a director or actors in it?
Dr. Smita: Though my book is not a novel, in future I want to make an OTT / TV series of all the teenage stories in my book. And if it would be made, I would like my daughter Anoushka DC, who is a film maker to be the director for the series. I want her to write the script and be the cinematographer too.
LiFT: Are you working on your next book? If yes, please tell us something about it.
Dr. Smita: Yes, I am co-authoring my next book with my daughter. It's about communication between a mother and a daughter. It's a journal helping silent yet heartfelt conversation between the two.
My future project also includes a book for women 40+ on how to navigate and win over the challenges in career, family, relationships, finances and health.
LiFT: What are your suggestions to the budding writers/poets so that they could improve their writing skills?
Dr. Smita: My advice to all the budding writers is to "always believe in yourselves, follow your heart and write what's true to you".
Few suggestion to improve your skills –
– Reading a lot of books to build and enhance your vocabulary,
– Write in the language you are comfortable with as the feelings get communicated very well to the readers and
– Don't compare yourself and your work with other writers.
You are unique and special.
Click here to order Smita Dipankar's Book – Simplifying Teenage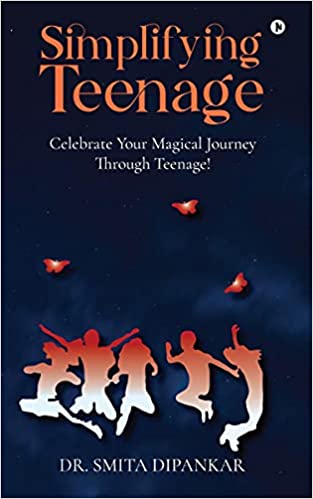 Total Page Visits: 346 - Today Page Visits: 1