About Devyani Narayan:
Devyani was pretty much just like any other child until her mother spilled words into her life. She soon discovered word after word that came together and made magic, like poetry.
Devyani Narayan started her schooling at Jamshedpur in Carmel Junior College. Eventually, she moved back to kolkata and completed her further studies from a private school.
Devyani lost her mother at an early age of 15 which was not only a big blow for her but it also pushed her into depression.
You must be thinking why she keeps talking about her so often? To be true, her mother is her greatest strength and inspiration. After all every mother is.
LiFT: Tell us about your book, the journey of writing it and its content.
Devyani: It took me four long years to finish my book and a year more to publish it.
Not only did it take me a lot of time to finish it, but I also had to gather a lot of courage and confidence to make it through the publishers. During these four years, I lost my only parent; my father. I moved three apartments and I guess I almost survived a pandemic too.
The Brown Girl Post – a book filled with artistry illustrations. It consists of short stories and poetry. The genre is fiction and has a versatile collection of content.
LiFT: Why you chose this title?
Devyani: When Priyanka Chopra Jonas was going internationally iconic at Godspeed, someone at a press conference called her "The Brown Girl".
Maybe this wasn't something new, but to me, it was. It got infectious and I started using the hashtag – #TheBrownGirlPost on my Instagram profile.
This is how I chose the title of my book.
LiFT: When did you realize that you want to be a writer and what's your inspiration behind it?
Devyani: Like I mentioned it earlier, my mother has forever been my inspiration to live and to write.
As a blooming teenager. I was aspiring so much from myself. I wanted to be a flight attendant, a teacher, a dancer, a floral boutique entrepreneur and so much more. My ambitions kept growing but during all those phases of my life – the only common thing for me was that I kept writing for myself.
Eventually, I realised my sheer passion for writing.
LiFT: Where do you see yourself ten years down the line in the world of literature?
Devyani: Well, ten years down the line, I see myself with a lot of typewriters (I already own two). Jokes apart, I might as well want to picture myself writing a novel and not just short stories. I even see myself as a successful blogger.
I aspire to touch the sky!
LiFT: How much do you think marketing or quality of a book is necessary to promote a particular book and increase its readers?
Devyani: Everything is equally important, both the marketing and the quality of a book. But no matter how well these are done, without a good story, nothing sells for too long. When I am at a bookstore, those books catch my attention which are different from the rest. Not just how they are designed, but only the name itself. So yes, the quality of the book matters more than marketing.
LiFT: What is the message you want to spread among folks with your writings?
Devyani: We all have monsters lurking beneath our bed, they scare us & dig their murky nails beneath our bed. Even if you don't have the courage to face them or to yell back at them, pretend to be brave and keep a flash light. Shine it up when it gets too dark and dirty.
In simple words – even if you're not brave sometimes, don't give up! Ever!
LiFT: What do you do apart from writing?
Devyani: Apart from writing, I daydream that one day, I might even start painting or learn photography and have a gallery showcasing my work.
I like gardening, I have a few succulents to take care of. I completely give in to music. All day, everyday. I do chores too as I am a home-maker too. I read, my bedroom is stuffed with books. I am selectively inclined towards OTT content but only when it is really catchy!
LiFT: What are the activities you resort to when you face a writer's block?
Devyani: Every writer's nightmare – A Writer's Block
Something that I face very often but I usually don't force it off. I try to inspire myself by listening to the great, Gulzar Sahab. I light up candles and set up fresh flowers in my room where I usually write. I also start reading a lot more during that phase.
LiFT: What if your story will be adopted as a movie? Whom would you want to work as a director or actors in it?
Devyani: If one of my short story is to be adopted for a movie, I would love that story to be 1990 (You will find the story in my book) For the question, my choice of actors would be – Konkona Sen and Rahul Bose.
Director – Aparna Sen or Imtiaz Ali
LiFT: Are you working on your next book? If yes, please tell us something about it.
Devyani: Yes I am currently working on my next book.
I have many ideas in me which are being put to words as we speak!
This one will be bigger than the current one.
LiFT: What are your suggestions to the budding writers/poets so that they could improve their writing skills?
Devyani: It's simple.
Read a lot and be honest with what you write. which means set a goal and push yourself to achieve it. Take deadlines seriously and depend on natural elements for inspiration
Click here to order Devyani's Book – The Brown Girl Post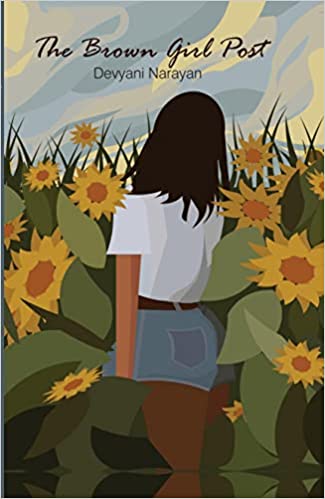 Total Page Visits: 669 - Today Page Visits: 1