About Arushi:
Arushi Sharma is an eighteen year old who is not only an aspiring doctor, but also amateur singer, author and poet. She strongly believes that writing is a pure bliss. Words have the power to influence, persuade and move people. She has a niche in works that have a blend of philosophy, psychology, morality, romance and practicality. She's looking for opportunities in the areas of writing that could promise her a preferably better career than just being her passion.
LiFT: Tell us about your book, the journey of writing it and its content.
Arushi: A wide youth population of the world isn't really aware of true love. Many curious minds want to find the exact answer to the question 'what is love?' The truth is, love is a type of blackhole; which just contains so much inside. Have you ever wondered about 'true love'? Have you met your significant other or are you yet to meet the one? In either cases, you must know that love is most often confused with infatuations and obsessions; your love-life should be soul-satisfying and you shall not fall for the wrong ones and shan't enter into messy breakups in life. But how can you prevent that? You will find the answers in here. The objective of this fusion fiction is to invoke the true sense of love in the readers and clear away the clouds of doubts and the mist of myths about pure love. Go through some real life scenarios in here and evaluate yourself about the stories which will make you recognize the aspects of true love. Love ain't easy and relationships don't work, eh? Perhaps you might discover some new details that can change your perspective about relationships. Let us peek into the blackhole of love and find out what are the psychological, philosophical and scientific properties of love and how essentially love is associated to human life if practiced correctly. The book in your hand is a promise that you would be able to absorb the genuine particulars about love when you finish reading it.
LiFT: Why you chose this title?
Arushi: The reason as to why this titled appeared apt to me is because this book is a kind of investigation on what love actually is and it sounded catchy and meaningful.
LiFT: When did you realize that you want to be a writer/poet and what's your inspiration behind it?
Arushi: I've always loved to write and share my opinions with words to the world but the strong urge to be in this field struck me when I was in high school and felt that I shall consider my work as a release. My thought process is quite different from the people who are my age and that's why I started to write because back in childhood, I used to feel that my friends don't understand my point of views. Gradually then, I became more and more interested in literature.
LiFT: Where do you see yourself ten years down the line in the world of literature?
Arushi: I'm looking for platforms that could bring my works to see the light they deserve because I personally feel that Indian Authors, especially the newbies, don't get the recognition their work is worthy of. But I genuinely believe that if given a chance, I could be striving at my best potential to be recognised as a well known author in India and the rest of the world, providing a wide horizon of thoughts to people to think upon in the coming years.
LiFT: How much do you think marketing or quality of a book is necessary to promote a particular book and increase its readers?
Arushi: I believe marketing of a book is definitely necessary, especially for the newbies. As I stated before, I feel that my work is underrated and not known but if it is brought into public notice, perhaps it could blow up. In general, promotion and marketing is tough and expensive in India. Only a few platforms like LiFT awards bring us affordable opportunities. Quality of a book is important but most of the times, publishing houses charge too high and first time authors decide to get self-published which might result in a comparatively less of quality in designing in accordance with the price but it shouldn't be assumed that the content quality would be poor.
LiFT: What is the message you want to spread among folks with your writings?
Arushi: I wish to spread compassion and integrity with my writings. I want to be someone who encourages people towards humanity and kindness by giving deep insights about public relations and love for all and why it's important for us at the Global level to be united as fellow humans and rationalize our actions. I wish I could persuade people with my works to give you malicious thoughts and cunningness. Also, I'd like to suggest that please give chances to new authors as well, every written piece is a work of art and you might adore it.
LiFT: What do you do apart from writing?
Arushi: I am an aspiring doctor and I love to sing because I also write songs. I have a passion for music as well. This is quite funny but at any given moment, I'm thinking and processing about what to create next in my write ups. I try to figure out which form of writing is my personal favourite. I also listen to Taylor's songs.
LiFT: What are the activities you resort to when you face a writer's block?
Arushi: Whenever there's a writer's block, I think for me it's always journals… I introspect my conditions and ask myself questions as to what is troubling me or why I'm not able to concentrate or what exactly I wish to convey through my work etc. Self introspection in the written form always works for me.
LiFT: Are you working on your next book? If yes, please tell us something about it.
Arushi: Yes, I'm currently working to publish my poetry collection soon. It's about the teenage phase and how various situations in that phase bring storming emotions and how one deals with them in the head. It focuses more on the mental battle of how teens perceive things versus how they should.
LiFT: What are your suggestions to the budding writers/poets so that they could improve their writing skills?
Arushi: I'd just say that, whatever write ups you're producing, are unique, so please don't ever just give up or underestimate your calibre. Your thoughts are awaited and certainly will be welcomed by the world someday soon. Keep on trying to seek opportunities and you'll be noticed by some great platforms for sure. All the best.
Click here to order Arushi's Book – Scrutinizing Love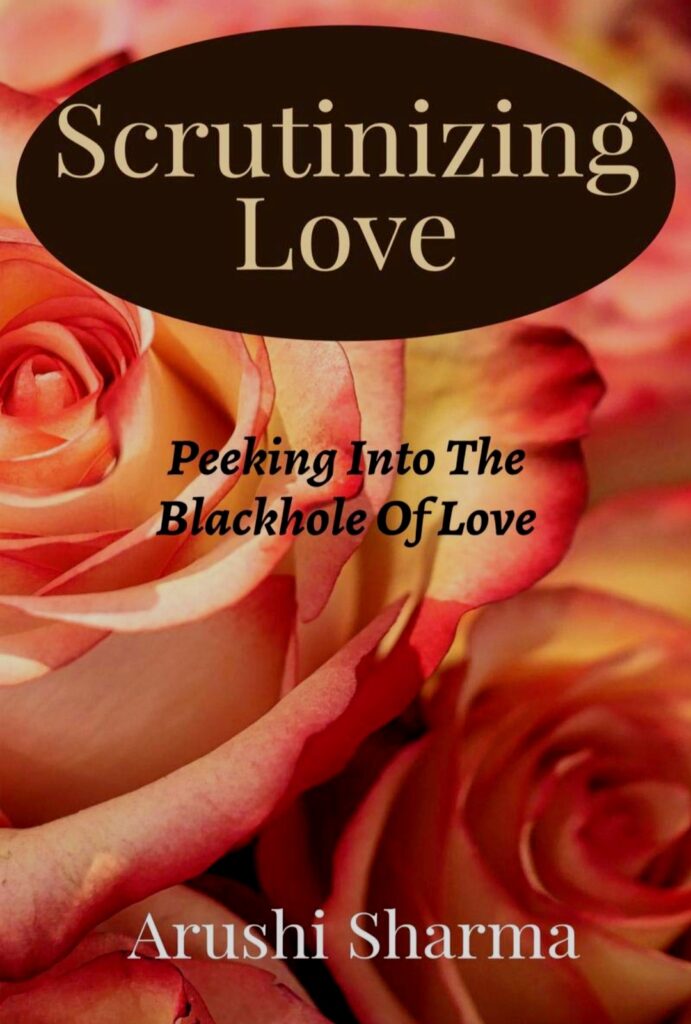 Total Page Visits: 831 - Today Page Visits: 1