About Allur Raja Rajeshwari Soujanya:
Allur Raja Rajeshwari Soujanya hails from the Indian state of Andhra Pradesh. She is a law student who is quite passionate to achieve something big in her life. She has written many articles for various websites. She has also worked in various organisations as an intern and even worked as a news reporter for a month in Rising Youth Cooperation. She has worked as a content writer for six months in C dial Organization, Delhi. She loves participating in competitions in order to prove her capabilities. She has secured 3rd place in National Amendment Writing Competition which was conducted by Vasundhara, The Green Society of Law, Uttaranchal University. Her hobbies are Writing, listening to music, drawing and reading books.
LiFT: Tell us about your book, the journey of writing it and its content.
Rajeshwari: The main objective of this book is to connect people and let them know that they are not alone in this world. Most of the people would be feeling lost and depressed and some would be facing some anxiety issues. This book will definitely help such kind of people and with the help of this book, they would receive a positive message and makes people hope for good things. I think I have completed writing this book within the time period of 6 months and there were some certain instances that happened to me and which made me feel the pain. Slowly I have understood myself and thought of letting out my feelings in the form of a paper. This is the main objective of mine in finishing this book.
LiFT: Why you chose this title?
Rajeshwari: As I have described some words in this book in a detailed manner. I thought of naming it 'The Beauty of Words' because each and every word has its own beauty in describing a particular thing. So I named the title 'Beauty of Words'.
LiFT: When did you realize that you want to be a writer/poet and what's your inspiration behind it?
Rajeshwari: This has been my childhood dream to get a book published with my name on it. I have started writing stories and essays from the age of 9. I have the habit of expressing my thoughts in the form of a paper and I cultivated the habit of writing and reading as well. I slowly started reading novels and books from which I got the idea of writing in a descriptive manner. When I was in 12th standard, I started finding ways in which I can publish my own book. Finally, this has happened this year which I'm quite grateful to 2 am publishers for fulfilling my dream by making it come true.
LiFT: Where do you see yourself ten years down the line in the world of literature?
Rajeshwari: I would like to see myself in a good position being as a renowned author because I really love writing books and connecting with people. So probably I wish I would be a recognized author in the future. I don't have any expectations but through my writing, I would like to connect with people more. Even though I get a few reads, that's totally fine for me because being a part of a few people's lives as reading will be quite enough. Because when a person reads the book, then definitely he/she would learn something out of the book which I would be quite grateful for. I just always hope high that something great would happen in my life for the hard work that I do.
LiFT: How much do you think marketing or quality of a book is necessary to promote a particular book and increase its readers?
Rajeshwari: Marketing plays an essential role because without marketing no book can reach people. The main purpose of writing a book is to make people know to purchase and read. Marketing is just like promotion and the conveyance of information so that the reach would be high and many can avail the book easily. There are many readers out there who always look for some good books to read. In order to connect with those kinds of people, marketing is a must. When marketing is high then definitely it boosts up the quality as well. This is the opinion which I have about this marketing.
LiFT: What is the message you want to spread among folks with your writings?
Rajeshwari: The one and only message which I want to convey to the people out there is ' You are not alone in this world'. Because many people would be feeling anxious and might be feeling depressed. Based on these feelings, one might be thinking that he or she is the one feeling in that way in this world which makes them more worried about things. So when you read this book then definitely you will receive a positive message and helps in easing up your heart if you have some things that bother you in your life and it would give you some strength as well. This is the message which I wanted to convey among folks with my writings.
LiFT: What do you do apart from writing?
Rajeshwari: I do podcasts and whenever I get some free time l draw some pictures. I'm a bibliophile as well who reads and collects some books. I don't keep myself be free all the time and would be occupying myself doing some works. This is what I do apart from writing.
LiFT: What are the activities you resort to when you face a writer's block?
Rajeshwari: The activities which I recommend are to take a break in between and to chill out for some time. We shouldn't think about it continuously what to write in the book and in case if we haven't got any ideas, we shouldn't feel stressed and need to give ourselves some time. Because when we feel stressed then it would be an impact on our writing which results in more delay in finishing up the book. So one needs to express in a calm and relaxed manner. This is what I recommend to the people who are going to write.
LiFT: Are you working on your next book? If yes, please tell us something about it.
Rajeshwari: No, I haven't got any idea or have some plans to write my next book yet. Definitely, I would write maybe after some time. I'm wishing that this book which I have written should reach the maximum people. Based on the outcome of It, I will start thinking about what to write and will try to improve my writing to be more effective than this one.
LiFT: What are your suggestions to the budding writers/poets so that they could improve their writing skills?
Rajeshwari: My suggestion would be to the writers out there is, whatever you feel from the heart or wanted to convey something just put down your feelings on a piece of paper which would be of great help in easing up your heart. Just write and along with that start reading some books which would be of great help in making your writing perfect because, with the writing of your's, people will be able to understand what you have written and if your writing is imperfect then it would be of great difficulty in making others understand of what you wanted to convey. This would be my suggestion.
Click here to order Rajeshwari's Book – Beauty of Words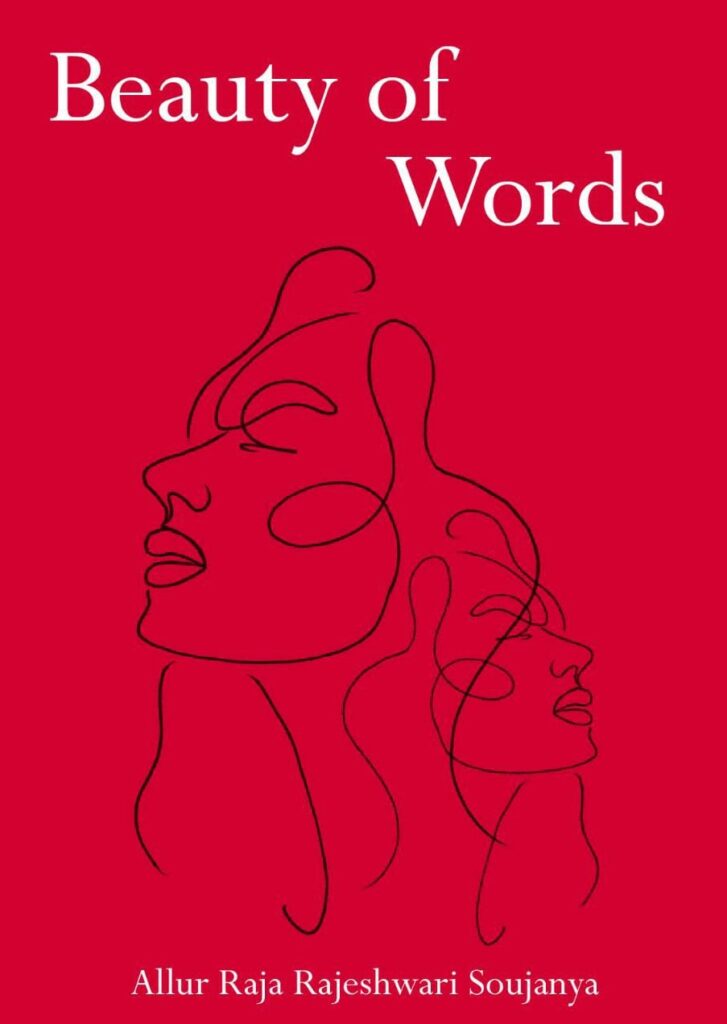 Total Page Visits: 691 - Today Page Visits: 1