About Akriti Bhartia:
Akriti Bhartia, (currently working as a life strategist in collaboration with In:ha wellness) is a keen observer and an inquisitive soul to learn and grow, believes in upgrading skills constantly, Akriti Bhartia was born and bought up in Delhi, pursued fine arts as graduation. Akriti's creative nature made her see things differently.
Two things have been very close to her since childhood- being creative and reading self-help books. She believes that everything in life is a combination of elements and how we combine things define us. Taken the journey from being a Mom to a Mom-preneur to an Author to a Life Strategist, Akriti Bhartia finds being a part of an individual's transformational journey and helping them to address their life difficulties, is the most satisfying aspects of a being. (Certified Life-strategist, Certified Theta Healing Practitioner, Certified various Energy Works Practitioner, Certified Mindful Meditation Practitioner).
LiFT: Tell us about your book, the journey of writing it and its content.
Akriti: Everything in one's own self starts with awareness. Idea behind the book is to make people aware of the mind-body connection. We ourselves have the answers to our own questions, we need to look inward and also connect to our true selves and art makes it easy for us to do so, it can evoke feelings and make us ponder. This book is a perfect portrayal of art being used as a medium to express simple learnings.
Everything in life is a journey- journey of growth, evolution, experiences and learning. You need to take the first step, keep moving forward and it continues as long as you want it. It also has the potential to open up new doors for you on its way, now it's our choice what door we want to enter in what phase of our journey. My personal experiences and learnings have played a big role in inspiring me to write this book. What I learnt experientially, I wanted it to come out to the world in a visual way. The journey of conceptualising to writing to illustrating has been full of opportunities and excitement. The content has been thoughtfully penned down in limited words. Also, though the content might seem only like a question and an answer, it's a full chapter in itself with a deep rooted meaning to it. The illustrations are also closely related to nature and simple things of life.
The book comprises of 52 questions and answers in an illustrative way, all done to have a long lasting effect on the mind.
LiFT: Why you chose this title?
Akriti: This title has been chosen as it is very self-explanatory. Each page depicts a conversation between the little girl and the panda in a question-answer format, where the little girl represents the voice in our head and the panda represents the physical body, hence it's the conversations between one's own mind and body.
LiFT: When did you realize that you want to be a writer and what's your inspiration behind it?
Akriti: I used to write a lot as a child, but it always used to be for my own self. Writing and art came very natural to me. I also believe that art is an integral part of our lives. Everything we do or have in our life is a form of art. However, everyone has a different definition of art. My personal life's journey is my inspiration behind this book. I always wanted to do something out of the box, that's the reason why, I put across the quest of mind in a creative manner.
LiFT: Where do you see yourself ten years down the line in the world of literature?
Akriti: I see myself creating an impact on people's life through fresh and innovative and out of the box ways of creating content, which will make it easier for them to consume.
LiFT: How much do you think marketing or quality of a book is necessary to promote a particular book and increase its readers?
Akriti: In today's day and age it's easy to make a book available to readers. But with the increase in awareness of things around and technology in our palms, it is more important to make the book discoverable. That's only possible with marketing.
The whole point of writing a book, is for people to read. The journey of seeing to buying a book is only possible when the book is promoted in different forms through different platforms.
Quality of the book makes a huge impact as it's the readers first experience of the book, when they touch it and feel it. Good quality and good content both go hand in hand.
LiFT: What is the message you want to spread among folks with your writings?
Akriti: As written in my book:
"How is it – to be the best?" asked the little girl.
"To choose to be the best version of yourself" said the Panda.
LiFT: What do you do apart from writing?
Akriti: I am a Life-strategist who finds being a part of an individual's transformational journey and helping them to address their life difficulties, is the most satisfying aspects of my being. I also love to travel and indulge in various types of art activities like painting, etc.
LiFT: What are the activities you resort to when you face a writer's block?
Akriti: I go out with my friends for a coffee.
LiFT: What if your story will be adopted as a movie? Whom would you want to work as a director or actors in it?
Akriti: My book would come up in an animated form and the concept which its based on can be used in various ways.
LiFT: Are you working on your next book? If yes, please tell us something about it.
Akriti: Lots of ideas are there, still figuring it out which one to go with.
LiFT: What are your suggestions to the budding writers/poets so that they could improve their writing skills?
Akriti: Just write form your heart and things will flow. Try not to try-try to write, but just do it.
Click here to order Akriti's Book – Conversations between the Little girl and the Panda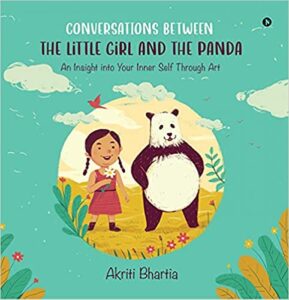 Total Page Visits: 444 - Today Page Visits: 2