About Abhinav Kaushal:
Abhinav is the literature student and an aspiring writer who finds writing a medium of expressing and inspiring others. He is currently pursuing Masters in English and is very keen to learn more about creative writing so that he can write more poetries and stories. Turning his hobby into passion, he published his first poetry book "Artistic Emotions".
LiFT: Tell us about your book, the journey of writing it and its content.
Abhinav: Artistic Emotions was a very on the spot idea. I loved writing quotes and poems and during lockdown, I started writing with more focus & enthusiasm. Initially, I was writing poems only for interest but after seeing my collection of poems, I decided to publish it.
LiFT: Why you chose this title?
Abhinav: Choosing the title was difficult part for me but since poetry is creation of our emotions. In another words, art is poetry and artist is emotion. That's how I got the title.
LiFT: When did you realize that you want to be a writer/poet and what's your inspiration behind it?
Abhinav: I never thought to become a writer but it happened to me. Not many people knows about my writing habits, so I simply get the inspiration from my one of the writer friend. I chose to take a step towards this journey of writing from Artistic Emotions.
LiFT: Where do you see yourself ten years down the line in the world of literature?
Abhinav: The world of literature is filled with many talented writers already. So ten years later, I don't know how successful I will be but I will become more experienced & knowledgeable writer for sure. This is my first step, so let's see where my journey will take me.
LiFT: How much do you think marketing or quality of a book is necessary to promote a particular book and increase its readers?
Abhinav: Marketing & quality of book is very necessary for the beginner writer like me. Because not being a famous personality, it's difficult to reach people. That's why marketing and quality both is important to reach the readers.
LiFT: What is the message you want to spread among folks with your writings?
Abhinav: I just want to say that writing field is not easy but don't give on your passion of writing. Keep writing until you get your best story or best book.
LiFT: What do you do apart from writing?
Abhinav: Apart from writing, I am currently pursuing MA English Honors and also exploring my family business.
LiFT: What are the activities you resort to when you face a writer's block?
Abhinav: Whenever I face writer's block, I do travelling because in our surroundings, we can find many stories if we observe.
LiFT: Are you working on your next book? If yes, please tell us something about it.
Abhinav: No! I am not working on my next book but soon will start if get any idea.
LiFT: What are your suggestions to the budding writers/poets so that they could improve their writing skills?
Abhinav: To improve the writing skills, there is only two ways, read & practice writing. Apart from that if you write something then can ask your reader friend for a feedback.
Click here to order Abhinav's Book – Artistic Emotions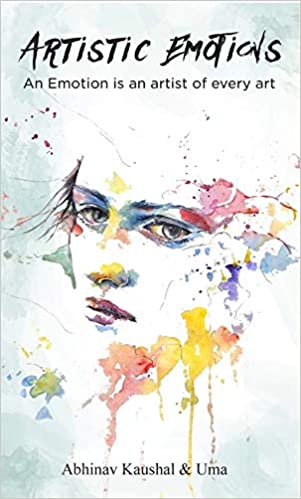 Total Page Visits: 422 - Today Page Visits: 1